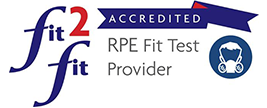 Face fit testing is a legal duty under the Control of Substances Hazardous to Health Regulations, the Control of Lead at Work Regulations and the Control of Asbestos Regulations. 
Q: What is a face fit test?
A: Face fit testing is a method of checking that a tight-fitting face piece matches the wearer's facial features and seals adequately to their face. It will also help to identify unsuitable face pieces that should not be used. Remember that tight-fitting RPE will only provide effective protection if the wearer is clean shaven, so they should also be clean shaven when fit tested and have not smoked, eaten or chewed gum 30 minutes before test. The person will also get a certificate to say they have tested and passed on that certain type of mask, which is then can be kept on file.
Q: How long does the face fit test take?
A: On average it takes 20-25 minutes per a person
Q: How much does it cost?
A: Costs range from 1-5 people at £40.00 each  to 30 + people at £25.00 each